5 Best All-Wheel-Drive Nissans
5 Best All-Wheel-Drive Nissans
Posted on August 9, 2023
With winter fast approaching, many new drivers want to know which are the best all-wheel-drive Nissans to consider. When it comes to all-wheel drive (AWD) vehicles, Nissan has established itself as a prominent player in the market, offering a diverse range of choices that cater to various lifestyles. 
Whether you're looking for enhanced traction in challenging weather conditions or seeking an adventurous off-road experience, Nissan's AWD lineup has something to offer. In this blog post, we explore the top Nissan vehicles with AWD that we recommend, each bringing a unique blend of performance, comfort, and capability to the table.
#1 Nissan Rogue
The Nissan Rogue is a versatile choice for individuals and families seeking a balance between urban agility and suburban utility. It also happens to be the most popular Nissan SUV thanks to a complete redesign in 2021 outfitting it with a new turbocharged 1.5-litre 3-cylinder engine that has been wowing our customers ever since. The 2023 Rogue lineup includes S, SV, SL, and Platinum trim levels. Each has the same engine and transmission, and you have a choice between front-wheel drive or all-wheel drive.
The interior of the Rogue showcases some serious style. Well-considered storage compartments, a dual-level dashboard, and a distinct squared-off shift knob contribute to the upscale aesthetic. While cloth seating is standard, the midrange SV model offers the choice of upgrading to faux-leather upholstery. The availability of three-zone automatic climate control, heated front seats, and a heated steering wheel add further comfort and convenience to the mix.
With available Intelligent AWD, the Rogue ensures stability and traction on slippery surfaces, making it an ideal companion for both daily commuting and weekend getaways. Its spacious interior, user-friendly tech features, and impressive fuel efficiency add to its appeal.
#2 Nissan Murano
For those desiring a touch of luxury combined with capable AWD performance, the Nissan Murano fits the bill. This midsize crossover offers a refined interior with premium materials and an array of advanced tech features. The Intelligent AWD system enhances handling and control, ensuring a smooth and composed ride, even when the road conditions are less than perfect.
#3 Nissan Pathfinder 
If your idea of adventure involves exploring off-road trails and venturing into the unknown, the Nissan Pathfinder with standard available Intelligent 4x4 might be your perfect match. Completely redesigned in 2022, the Pathfinder can now accommodate up to eight passengers. Otherwise, the second-row bench can be replaced by a pair of captain's chairs with a removable console in the middle.
Under the hood, you will find a 3.5-litre V6 engine with 284 horsepower and 259 pound-feet of torque for performance specs. Nissan also ditched the CVT replacing it with a nine-speed auto box which makes a huge difference in terms of its performance and capabilities on and off the beaten trail. 
All Nissan Pathfinders are equipped with the company's Safety Shield 360 suite of advanced driver assistance technologies including automatic emergency braking with pedestrian detection, blind spot warning, rear cross-traffic alert, lane departure warning, high beam assist and rear automatic braking. With ample seating and a towing capacity that suits the needs of active families and outdoor enthusiasts (tow up to 6,000 lbs), the Pathfinder is easily one of the best all-wheel-drive Nissans you can purchase.
#4 Nissan Qashqai
The Nissan Qashqai is an agile crossover designed for urban dwellers who value efficiency, style, and AWD capability. Its Intelligent AWD system offers improved traction and stability on city streets as well as during weekend escapes. 
Standard features include LED daytime running lights, heated front seats, a 7.0ʺ Colour display with multi-touch control, Apple CarPlay and Android Auto, heated outside mirrors and more. Nissan Qashqai models equipped with AWD do pretty well at the tanks too with a 9.0/7.5 L/100 km (combined, city & highway) with AWD. 
The Qashqai's compact dimensions and advanced tech features make it an excellent choice for navigating tight urban spaces without sacrificing comfort.
#5 Nissan Altima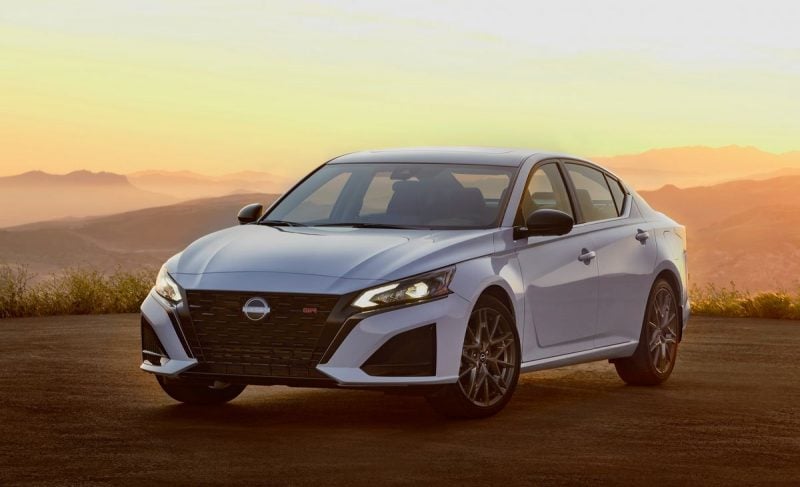 For sedan enthusiasts who crave both sophistication and AWD performance, the Nissan Altima stands out. For years, you could only purchase crossovers and SUVs from Nissan equipped with all-wheel drive. But now, the Nissan Altima has it as standard, paired to a 2.5-litre engine that gives owners robust 182 horsepower and 178 lb-ft of torque. 
The Nissan Altima is also packed with a bunch of safety features. It Things like automatic emergency braking with pedestrian detection, blind-spot monitoring, rear cross-traffic alert, lane-departure warning, auto high-beam headlights, rear automatic braking, and rear parking sensors all come standard.  
There is also a ton of room in this surprisingly spacious sedan. Passengers enjoy 895 mm of legroom and 937 mm of headroom in the rear seats. Tech features are also plenty, with things like a remote start, an 8-inch infotainment system, Apple CarPlay and Android Auto, SiriusXM, two USB ports, an eight-way power driver's seat and heated front seats available to buyers. 
The Altima's sleek design, comfortable interior, and advanced safety features make it one of the best all-wheel-drive Nissans for Toronto drivers who prioritize a blend of elegance and driving dynamics.
Shopping For The Best All-Wheel-Drive Nissans? Visit Us At Woodbine Nissan
Nissan Nissan's AWD lineup offers a wide array of vehicles catering to various needs and preferences. From compact SUVs to full-size SUVs, rugged off-roaders to luxury crossovers, Nissan has a model for every kind of driver. 
If you are looking for an AWD vehicle before the snow falls, come see us at Woodbine Nissan! You can shop our entire line-up of new vehicles online here or give us a shout at (416) 748-2900. We would happily explore all the AWD options that align with your lifestyle, driving goals, and budget. 
Follow us on Instagram and Facebook for updates on sales, events and more.